Statement: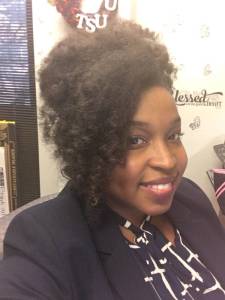 I am searching for a faculty home to use my enthusiasm, classroom management, and engagement to share my innovative teaching practices in reading/literacy, expertise in reading for diverse populations, and culturally responsive teaching practices. I am a first-generation college student, turned professor, ready to dedicate my time and share my experiences to commit to scholarship, teaching, and service to a university that is devoted to student success, and development.
Problem:
Searching for a tenure-track faculty position is a grueling process.  In one month, I have completed 12 applications, and nearly 45 since I completed my Doctorate almost five years ago. (I have heard of some completing over one-hundred applications, and getting 1-2 offers for interviews and employment)  I have researched, watched videos, and really feel as if I know this process. I worked for three years as an adjunct professor, and a year and a half as a Visiting Assistant Professor. I am appreciative of this transition or "growing" period, where I feel I have developed even more as a professor and educator.  I know that a tenure-track job is becoming rare, and if one is being considered for tenure it is important that the faculty candidate is in the correct setting for all parties involved.   I have all of the credentials, and I have the required experience, however,  I still have not found my home.  Of all of the factors working against me (location, number of applicants within each search, not having a large network), I am determined to share what I am looking for in a position, in hopes that it pushes me forward in my search.
Conclusion:
I am searching for a educational home base where I can contribute to the college/department in a manner that is respected and appreciated.  I want to get to know my fellow faculty members, and learn from them.  I want them to truly know what I represent as an educator.  I am a quick witted researcher–it only takes me a short time to find a LOT of valuable and quality information.  I am not afraid to take risks with creativity in lessons and curriculum.  I enjoy putting on workshops for students and current teachers.  I want to put on special programs for the community I join.  I want to collaborate with  faculty, as well as students.  I am looking for the following traits in a College/School of Education:
A college that is culturally responsive in it's teaching and learning practices, and employment practices.  I know as a faculty member of color, I am rare, but a much needed gem in any faculty.  I know that I am only part of the less than 3% of hired black faculty members in our country. I am not asking to be hired because of my race, but I know in education students need to see people who look like me in small-town USA at their college, as well as students not only need to see me, but they can LEARN from me.  (Colleges' promises to diversify face one challenge: finding black faculty)
A college that has traditions and structure within their teacher education programs, but also a program willing to make progressive moves and change.  Many places say they are preparing teachers for the future, but their faculty doesn't reflect it.  Many schools feel they promote great aspects about their programs, but it is often not reflective to the outside world–change should be noticeable, and evident.
I would like to become a part of an innovative faculty that is taking steps to recruit and retain faculty that are seeking current research, attending conferences, and CREATING scholarly activities for students, other faculty, and the community in which the university serves.
A college that is supportive of faculty, and willing to trust that I will bring out the best in students, and represent the university with the utmost respect (in the classroom, and with scholarly work).
A college that respects all areas (majors) of teacher education, and finds creative ways to promote integration of subjects and department areas.
A college that is evolving with teaching and learning methods.  Technology is important for teaching, reaching, and developing– it's necessary for those who are molding tomorrow's teachers.  The manners in which courses and lessons are presented should always reflect ways to be more effective with and accessible to students.
Overall, I am a professor who puts students first.  This does not mean that they do whatever they want in my courses.  I teach them responsibility, structure, and respect. I teach them those elements by demonstration–by modeling expectations.  I allow them to walk with me in each course.  I don't talk AT them, I talk WITH them.  I need a setting that is looking for someone like me to lead future teachers in the right direction.
I will be looking forward to your call…
Additional Related Resources:
https://chroniclevitae.com/news/1775-i-found-a-tenure-track-job-here-s-what-it-took
https://www.insidehighered.com/advice/2016/09/09/more-faculty-color-can-and-should-be-top-ranks-universities-essay
Colleges' promises to diversify face one challenge: finding black faculty
http://diverseeducation.com/article/86164/