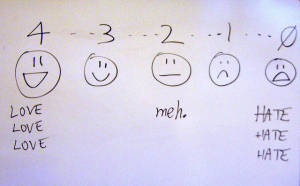 No matter what grade level I teach, I always like to hear feedback from my students in the end.  When I taught elementary and middle school, on the last day of school, I had the students complete a report card (with comments).  I do this because I value their opinion, and I use their feedback to improve.  Below are the voices of several of my students from the college courses that I have recently taught:
ENGL 306
Dr. Childs understood our daily college struggles and made us feel as though she was more than just a professor, but a" go to" person.
She did very well on everything. She is a very good professor. The way she teaches, always helps students to really understand a lesson.
She always has activities for students in the class.
She cares about her students and always asks about personal lives of each student.
I think her teaching methods are great!
From this course, I have improved my English,  writing essays, and reading skills. My overall experience was good because she was a fun teacher and she explained everything we had to do well and she helped a lot. I have been of school for over 10 years, and I can say that I have greatly improved since my High School years.
She was a pretty good teacher. I like how she encourages us to do well in class, and gives advice.
She listens and makes you feel comfortable about your writing. My teacher's methods have been done very well and she helped me understand everything I need to know
GUST 305
The class was well handed and taught by the instructor.
I learned a lot in this class.  Dr. Childs is a great professor.  She has a lot of patience and interest with her students. I recommend her 100%.
She taught us how to present to the class.
She is a really good teacher, always caring for her students and class.
She motivates us to do well in the future.