This slideshow requires JavaScript.
On February 23-24, 2018, I had the pleasure of being in the Texas Panhandle to attend the Annual TALE (Texas Association for Literacy Education) Conference.  The conference took place at West Texas A & M University in Canyon, Texas.  I attended the conference representing TALE as a Board Member, and I was also able to present one of my most successful literacy sessions yet titled, "Changing the Language".  
This was the largest Annual TALE conference in it's existence. I have attended the last three annual conference meetings, and each time I enjoy the quality of the sessions, as well as I always expand my professional network, and meet some really awesome and inspiring educators and teacher educators that I keep in touch with throughout the year.  I was pleasantly surprised with the WTAMU campus, and their beautiful facilities (the conference was help in their Student Center).  From attending a superb and diverse author panel with world renowned authors (including John R. Erikcson, author of the Hank the Cowdog series), to attending conference sessions that linked food and literacy, and exploring new technology used to teach and learn literacy skills, I had a great time! It is always a joy for me to not only share my expertise, but to learn from others.  I recorded a YouTube video (below) that further describes my experiences at TALE and gives some information on  the sessions that I attended:
A final highlight of the conference is that the conference was located very close to Palo Duro Canyon–the nation's second largest canyon.  Before leaving the Canyon/Amarillo area, my husband and I took in the beauty and peace that Palo Duro Canyon had to offer: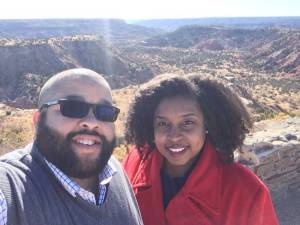 I cannot wait to attend the conference next year, and I look forward to traveling to Waco for what looks to be an even larger conference in March 2019.  If you are interested in joining the TALE organization for only $10 or interested in  attending next year's conference, Visit: texasreaders.org  Details for TALE 2019 will be coming soon!
Additional Resources Related to my Conference Experience
Texas Association for Literacy Education (TALE) Website
Presenter of " Cultivating Compelling Writing in the Context of Cuisine":  http://www.carlambrown.com/
Presenter of "Read to Feed" : http://www.heiferfoundation.org/
A great App used to "text code" books, and help with comprehension: https://www.read2grasp.com/
Plickers (mentioned in my YouTube Video, a tech tool using QR code technology to informally assess during whole group and small group instruction)
Palo Duro Canyon- http://www.palodurocanyon.com/