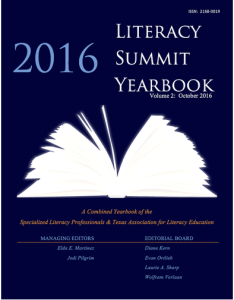 One of my first scholarly works as a professor has been published! I am pleased to share that my article, "Digital Minds: Writing Instruction for Students who HATE Writing" was published in Volume 2: October 2016 of the Literacy Summit Yearbook. This particular journal was put together by TALE (Texas Association for Literacy Education), and the Specialized Literacy Professionals organizations.
The article further develops the conversation from my presentation (same title as the article) at the 2016 Literacy Summit held at the University of the Incarnate Word in San Antonio, Texas in February 2016. My article explores the possibilities of merging traditional writing skills and lessons with popular student culture of today. In particular, I suggest the use of social media, and technological tools to explain writing concepts as well as model the use of the skills as a teaching strategy. Our students are often disconnected from traditional academic writing, yet they don't realize they use many of the skills already in their day to day life.
If you'd like to read how to connect academic writing in a manner that is relevant to today's generation of students, read this article to learn how to "Change the Language" in your English Language Arts setting.
Abstract:  Many students "hate" writing for a number of reasons. It is important that literacy educators find the reasons of hate and displeasure that pertain to their students, and find ways to become more innovative at addressing these issues. This discussion began as a presentation, shared at the Literacy Summit in 2016. Alternative ways to teach "traditional" writing, essay, and journal tasks are needed in order to improve students' interest in writing, while building confidence. The gateway to do so is by providing tasks that can enhance the writing process, and responses to literature using technology and other multimedia (exploring digital literacies). Students should know how writing fits into their lives (and future careers), and that the skills they learn are needed across all subjects in education. This article gives suggestions on ways educators should seek to inspire, challenge, and put passion and versatility into their writing instruction practices.
Link to the full article:  http://www.texasreaders.org/yearbooks.html
Once you arrive on the publication page, my article is in Chapter 13, on  pages 82-86. I would love to hear your feedback. Feel free to e-mail me with comments about the article content.