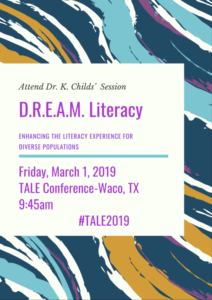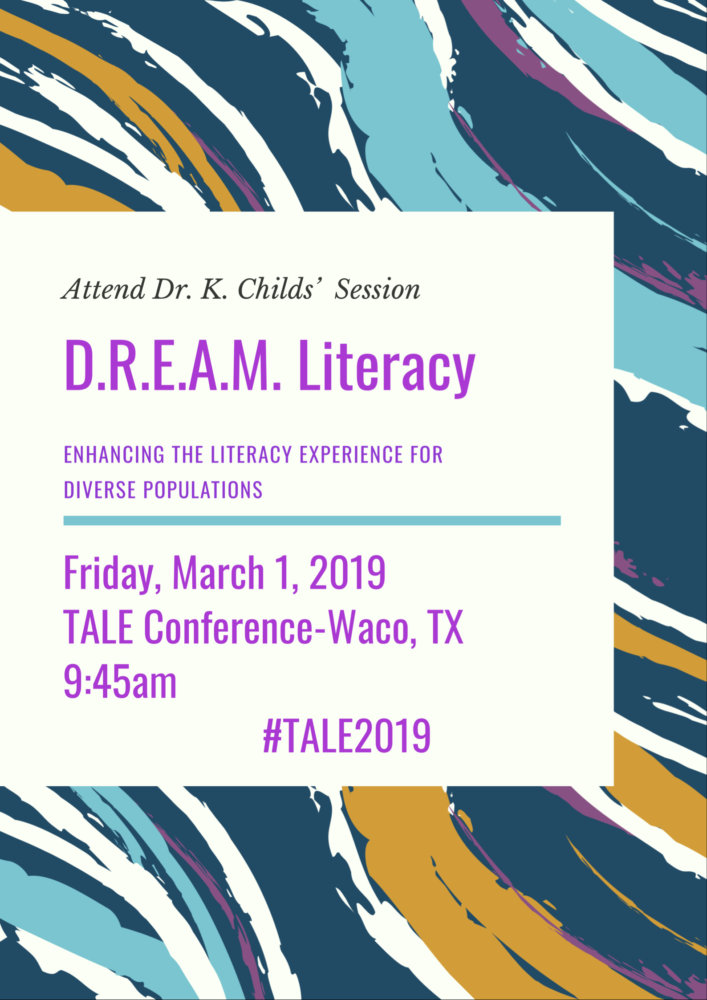 Title: D.R.E.A.M Literacy: Enhancing the literacy experience for diverse populations
Presented at: 2019 TALE Annual Conference (Plans to develop into a Web Series and publication)
Intended Audience: K-12 or General
Keywords: Diverse Populations, Literacy, Engagement
This presentation delves into five sections that will provide examples of "D.R.E.A.M" (Diversity, Relevance, Engagement, Access, Motivation) being implemented into instruction, and encourage at-home support using diverse texts, popular culture and technology, and multimodal resources. Each section of the presentation gives strategies and activities to enhance literacy practices, and models ways to reach diverse populations.
Literature/research that supports the presentation/concept:
According to a study by the Cooperative Children's Book Center at the University of Wisconsin-Madison (2016), about 22% of their books were about people of color, and the books written or illustrated by authors of color made up about 12% of their inventory.  These numbers are slowly changing, as twenty years ago only 9% of book selections represented or included students of color.  Students want to feel like they are included and are represented in a learning environment.  Literacy learning, and traditional academic English can be a subject area that is intimidating to students, and many students struggle with code switching or second language learning.  Yet they must build a literacy foundation, as it is essential for learning in all other academic subject areas.  With the challenges that many students bring to the classroom, educators must be willing to embrace diversity, creativity, patience, and spark engagement.
DREAM represents several pieces necessary to address and provide quality and equitable literacy instruction for all.  Diversity brings a wide spectrum of issues that educators can be faced with.  Willingness to learn, accept, and apply the culture (not just ethnicity or race) of students to instructional practice is key. Students also need to know how to apply the knowledge being taught, and how it applies to them.  Engagement starts with learning the interests of the students, merged with the academic knowledge needed.  Ease of access to resources and parents' insight on how to continue their child's learning outside of the classroom doors is crucial. As far as motivation, our role is to grow our students' skills and learn what makes them excited to learn—this is very important in a nation of students with unique needs that are changing daily.
Related Supporting Literature:
Cambria, J. & Guthrie, J.T. (2010). Motivating and engaging students in reading. The NERA Journal, 46, (1). p. 16-29.
Cooperative Children's Book Center (2018, Feb 22). Publishing statistics on children's books about people of color and first/native nations and by people of color and first/native nations authors and illustrators. Retrieved from: http://ccbc.education.wisc.edu/books/pcstats.asp
Guthrie, J.T. (2004). Teaching for literacy engagement. Journal for Literacy Research, 36 (1), p. 1-30.
Hicks, T. & Hawley-Turner, K. (2013). No longer a luxury: Digital literacy can't wait. English Journal, 102 (6), p. 58-65
Walsh, M. (2010). Multimodal literacy: What does it mean for classroom practice? Australian
Journal of Language and Literacy, 33(3). p. 211-239.
Accompanying Resources